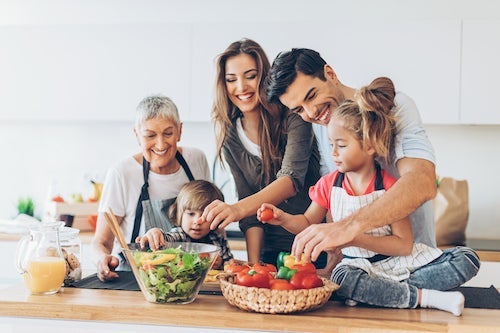 Earlier this week, Statistics Canada reported that nearly 1.9 million Canadians aged 25 to 64 lived with at least one parent in 2017, more than double the 900,000 recorded 20 years ago. In real estate, I am seeing more multi-generational families buying homes to accommodate adult children moving back home with parents because of health issues, job loss, divorce, relocation, or to take care of aging parents. Home with suites are not just for income purposes today as more adults move home.  I wanted to examine some of the most common real estate missteps that each generation has been faced with.
For home buyers in their 20's, many faced uncertainty when the housing market dropped 10 years ago, creating a generation of buyers who were more risk-averse, and struggled to afford a higher cost of living which included rent.  According to Zillow, many millennials do not view real estate as an opportunity to build wealth and prefer to pay higher rent to live in downtown or more urban areas.  Younger generations are less inclined to purchase larger homes, and often prefer newer homes that offer technology built-ins and higher-end finishing.
Many home buyers in their 30's may be in a serious relationship, or even starting a family which requires extra space in a home.  This generation is often less likely to set aside savings for unforseen life events such as a new roof, job loss, or birth of a child. As well, this generation may have student debt that needs to be repaid as those free-spending college days are now a distant memory.
Home buyers in their 40's face a unique set of challenges.  This generation may consider selling their existing home for something newer or larger, or may be contemplating purchasing a home that require extensive renovations.  This can dramatically increase their debt load, as opposed to paying down their existing mortgage.  Buying a new vehicle, taking a pricey family vacation, or trying to keep up with the lifestyles of friends and family members can prove hazardous to this age group.  Using your existing home as a ATM and pulling equity from your home when the market is strong can lead to problems in relationships and major financial problems.  According to Statistics Canada, the average age of Canadians divorcing is 41.9 years of age for women and 44.5 years of age for men.  This age group is likely to experience changes in jobs or relationships, as newly single adults are forced to move home to hit the reset button in their lives.
What about Canadians in their 50s and 60s?  Often times, this age group are the parents of the adult children who move home (often referred to as "boomerang children"), and can have an impact on their retirement plans and strain personal finances.  Co-signing for loans for adult children or even grandchildren can be a costly mistake, especially if an individual in this age group decides to purchase another home or relocate closer to family.  Because this generation is now working longer than ever, it is important that they can qualify for their mortgage renewal.  It  can be a costly mistake for those nearing retirement age to not contemplate the challenges of living off a pension rather than a regular pay cheque.  
As you can see, different ages present different issues for home buyers.  Regardless of your age or situation, being mindful of debt and setting aside a "rainy day" fund no matter how large or small is good advice for us all.  I am certainly seeing homeowners who pulled out equity to fund lavish lifestyles paying the price as the real estate market becomes more stable and housing values are no longer skyrocketing.
If you are interested in buying or selling, please feel free to contact me anytime.  I am committed to providing the highest level of service and advice to my clients. 
FEATURED TEAM OPEN HOUSES THIS WEEKEND...
OPEN HOUSE THIS SAT & SUN, FEB 23 & 24 from 11-4:30 pm
#105-2835 Departure Bay Road
Price Reduced to Only $749,900
MLS#450811 / 3 bedroom / 3 bath / rooftop patio 
Welcome to Legasea in Departure Bay! This brand new development offers luxury living, just steps from beautiful Departure Bay Beach. 6 executive designed penthouses, featuring high end finishings & roof top patios, create the "Islands" of Legasea. Inspired by our remarkable ocean paradise, each penthouse is named for one of the alluring Gulf Islands. Live within close proximity to many amenities, BC ferries, seaplanes & more. For more information please visit 
www.islandhomegroup.com
 or call 250-585-2601.
❄️
OPEN HOUSE THIS SUN, FEB 24 from 1-4 pm❄️
3813 Marjorie Way
$799,900
MLS#450538 / 5 bedroom / 3 bathroom / legal suite
.
This brand new luxurious residence offers high-end finishing throughout and 3090 sq ft of living space. The stunning living room is highlighted by vaulted ceilings and the gourmet kitchen boasts maple cabinetry, spacious island, pantry, and quartz counter tops. The separate 2 bedroom legal suite boasts similar finishings including quartz countertops and a spacious layout. This impressive home also includes: hot water on demand, central vac and a convenient mud room just off the double car garage. For more information please visit 
www.islandhomegroup.com
 or call 250-585-2601.