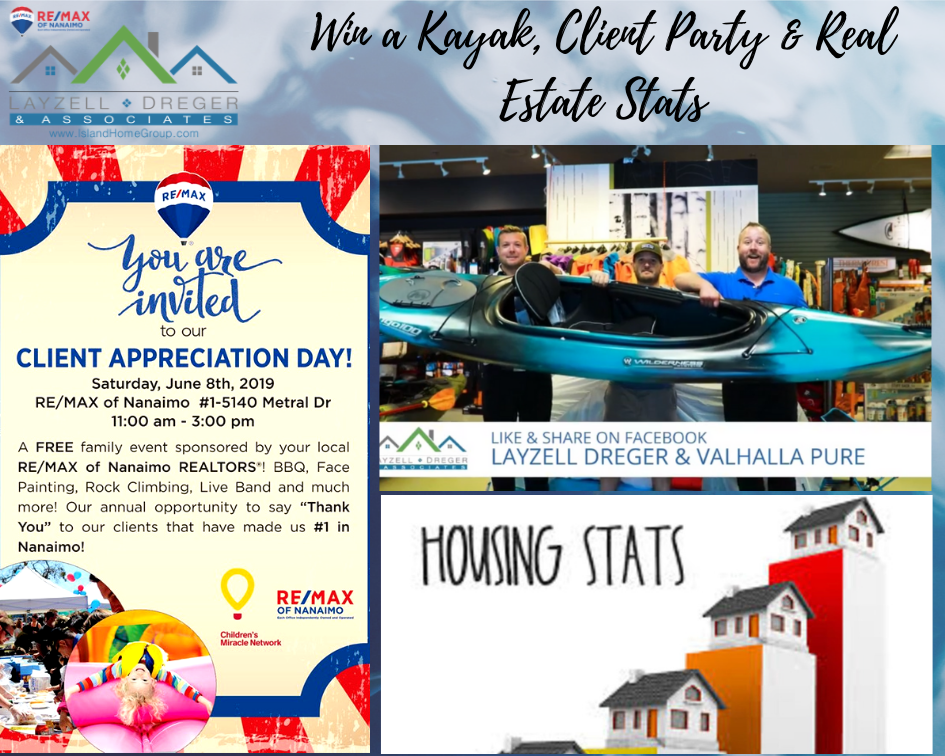 "Buyers decide in the first eight seconds of seeing a home if they're interested in buying it. Get out of your car, walk in their shoes and see what they see within the first eight seconds.

"
-
Barbara Corcoran
☀️
WIN A BRAND NEW KAYAK 
☀️
GIVEAWAY TIME TO CELEBRATE SUMMER
Who's ready to get out and kayak? We are excited to present a brand new kayak giveaway prize provided by VALHALLA PURE OUTFITTERS NANAIMO.  Winner must be able to pick-up prize in Nanaimo. Giveaway winner will be announced June 21st.
TO ENTER:
Follow Layzell Dreger and Associates page and comment where you would enjoy kayaking most on Vancouver Island. Then simply "like" Valhalla Pure Outfitters Nanaimo Facebook page and you are entered to win.  


Facebook Links for Quick Reference:
https://www.facebook.com/layzelldregerandassociates/
- Layzell Dreger & Associates page
https://www.facebook.com/vponanaimo/
 - Valhalla Pure Outfitters page
For extra entries
, just share this video to your own Facebook page. Page must be public for us to see.
For an additional entry,
head on over to our Instagram page and like the giveaway post:

layzelldreger_islandrealestate
☀️
RE/MAX CLIENT APPRECIATION PARTY - SAT. JUNE 8TH 
☀️
Don't miss out on a great family event this weekend!  Our RE/MAX of Nanaimo Client Appreciation Party will be held at our RE/MAX parking lot at 5140 Metral Drive on Saturday from 11-3pm.  Join us for a free BBQ, live music and fun activities for kids of ALL ages.  It is our way of saying "thank you" to our community for another incredible year of helping clients with all of their real estate needs.
☀️️
MAY 2019 REAL ESTATE STATS FOR NANAIMO 
☀️
Real estate in Nanaimo is definitely changing from last year, and not for the reasons you may think. Home prices have continued to rise, up 5% from May 2018. House sales for single family homes dropped slightly, down 2% compared to May 2018. Clearly, well-priced homes are still selling and with inventory smaller, home sellers are poised to benefit from listing their homes now with less competition. If you have any questions, feel free to contact us anytime at 250-585-2601. We want to help you get moving in the right direction in 2019.