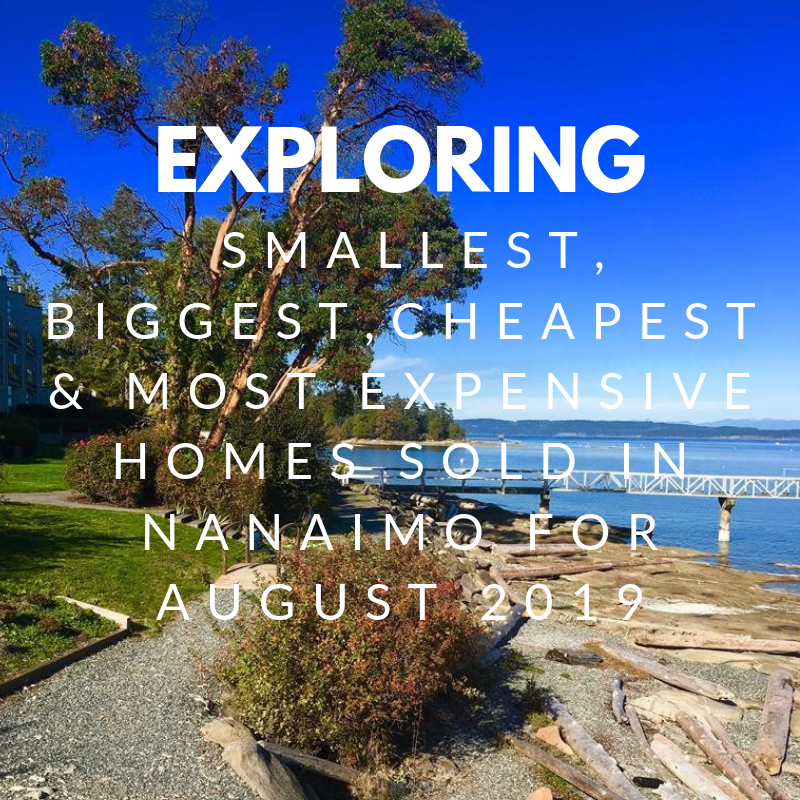 We thought that it would be interesting to take a look at the smallest, largest and most expensive homes sold in Nanaimo for the month of August.  The summer months can be a stressful time for families moving in time for school to start, so there will be countless parents and caregivers enjoying their new homes AND waving goodbye to their kids next week as school is set to begin.  The Labour Day long weekend is typically considered the last camping weekend of the summer, and the weather is looking promising.  According to Statistics Canada, 44% of Canadians over the age of 15 will participate in hiking or backpacking while 24% will camp in a tent annually.  
The smallest home that sold in August in Nanaimo was NOT the least expensive.  In fact, a 4 bedroom home in Cedar offering 1366 sf sold for $315,000 - making it the cheapest home sold this month (but not the smallest in size).  Interestingly, it was listed for sale for only $275,000 but was sold for $40,000 OVER the asking price.  The winner of smallest home sold goes to 748 Eberts Street which is 917 sf and boasts 2 bedrooms and fenced yard which sold for $335,000 in August.
The largest home sold this month in Nanaimo was 4,278 sf and is a lakefront estate with a private dock on Long Lake which sold for $1,100,000.  Designed as a B&B, this home offers 5 spacious bedrooms (3 that include small kitchenettes), 6 bathrooms, hot tub, and BBQ pit.
The winner of the most expensive home sold in Nanaimo goes to a spectacular home in  Lower Lantzville that offers 4,002 sf and .81 acre of walk-on waterfront and was built in 2002.  You can enjoy ocean views from every room and kayak from your back door!  This stunning property sold for a jaw-dropping $2,625,000.
August has been a busy month for our Layzell Dreger & Associates Team.  We are so grateful for the trust that our clients give to us as we assist them with the largest investment they will likely make.  Whether it is a tiny home, a waterfront estate, a retirement home, or a family home with a yard for the children - we are here to help.  It is important to make informed decisions that will help you protect your investment.