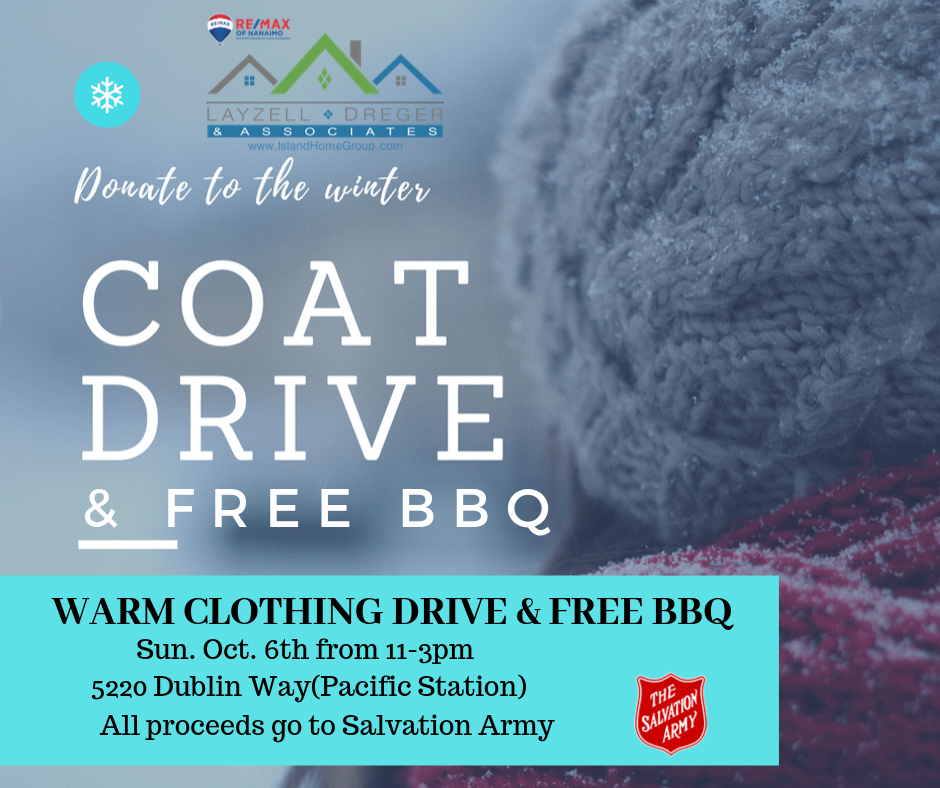 If you are trying to figure out an easy, low-cost way to help our community, our Layzell Dreger & Associates team encourages you to donate a gently worn coat or warm clothing to our upcoming Share the Warmth clothing drive this Sunday, October 6th from 11-3pm. The event will take place at 5220 Dublin Way (Pacific Station) and you can enjoy our FREE BBQ while you donate your used clothing.  

This community partnership will collect new and gently worn coats and jackets, new socks, scarves, and gloves to be distributed by our local Salvation Army free to children and adults in Nanaimo. 

There are so many reasons to donate a coat or winter clothing on Sunday.  Fall is a great time to de-clutter your home and it feels SO good to get rid of clothes and things that you no longer use.  Coats take up a considerable amount of room in a closet, so you will have a lot of free space for those snazzy Christmas outfits.

Even if you are feeling the pinch with back-to-school costs adding up, donating to a coat drive doesn't cost a thing.  By donating a coat that your child no longer fits is easy to do, and will help another child stay warm and dry this winter.

We encourage you to have your children help you de-clutter your winter clothing.  It is a great way to discuss how their donations will make a difference in the lives of others and teaches children about the giving to others and how charities operate.

Just remember that the coat that is gathering dust in your closet is a coat that someone truly needs.  The best part is that you can de-clutter your home AND take the entire family for a FREE BBQ lunch while helping out families in need!  We look forward to seeing you this Sunday and together, we can share the warmth.  
Check our our fun event video here: 
https://vimeo.com/flavrshop/review/362635071/80d9c93b41