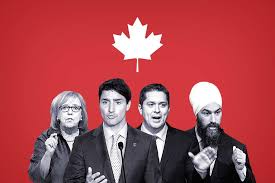 Housing is one of the top issues this election.  NDP leader Jagmeet Singh has gone so far as to refer to housing as the "most pressing crisis" facing Canadians today.  So this then begs the question.  Are there positive signs in our local real estate market?  The answer may lie with the outcome of the upcoming election.
The Liberal government introduced a national housing strategy in 2017 that was a 10-year plan with $55 billion allocated to assist over 500,000 families requiring housing, reducing homelessness by 50%, and developing up to 125,000 in new housing units.  The homeless situation in Nanaimo does not appear to have improved since 2017, with recent statistics indicating that the homeless figures numbers have increased, not decreased over the past two years.  However, time will tell if the national housing strategy has had a positive outcome for Canadians overall.
The NDP party has proposed 500,000 of affordable rental units, and a new $5,000 rental benefit.  Some economists are quick to point out that this housing strategy may simply just increase the rents for larger cities such as Vancouver unless a large-scale development of rental housing is created in those areas.  Cities with lower vacancy rates may not see the benefits of this program compared to cities such as Saskatoon with a vacancy rate of 8.3% as of Oct. 2018 according to Statistics Canada.
The Conservative party has vehemently opposed the mortgage stress test and vowed to permit 30 year mortgages and eliminating the stress test on mortgage renewals.  However, many feel that this will simply create additional debt as housing prices will increase as a result. 
The Green Party has proposed the elimination of the first-time home buyer grant, creation of a minister of housing to create proposals unique to each province.  Additionally, they would create 25,000 brand new and 15,000 renovated housing units every single year for 10 years. 
Housing will remain an integral factor in this upcoming election.  Regardless of WHO you vote for, it is imperative to VOTE and ensure that your voice is counted.
With emails circulating constantly about the election, I wanted to take a moment to express my profound appreciation to each and every person who donated warm clothing as part of our "Share the Warmth" campaign in partnership with the Salvation Army and local businesses recently. 
With respect to the used donations collected, the Salvation Army advised that they received enough used clothing from our event to give away coats to every single person who attended their food back last Friday as well as completely fill up their downtown location for people that come there.   We were so inspired by the impact made in our community, that we purchased brand new coats and donated them to Dawne Anderson of the Salvation Army yesterday.  A special thanks to Core Insurance, Tiah Workman & Pacific Station Notaries and Adam Hawryluk of Dominion Lending Centres for their support and contributions.  Here is a photo of us yesterday presenting just a few of purchased coats to the Salvation Army: