Random (but Funny) Lessons I Have Learned During the Pandemic
Posted by Cody Dreger/Dustin Layzell PREC* on Friday, April 17, 2020 at 11:53 AM
By Cody Dreger/Dustin Layzell PREC* / April 17, 2020
Comment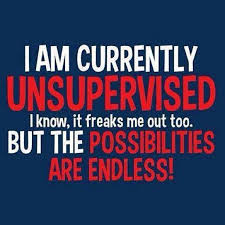 Dear friends,
As a father of 2 young children who aren't old enough to understand how much the world has changed in the past month, I feel conflicted. I want to return to my old life, but know that a "new normal" will evolve. So, in an effort to reflect on these changes, I wanted to share the lessons I have learned recently with all of you. I am sure you can relate to at least one of them...
1. Wear a top AND pants to online team meetings.
I admit it. I actually wore my housecoat on a recent Zoom team meeting, and the sense of comfort was amazing. I imagined that this feeling is how many women feel in their Lululemon leggings, and I can understand now. However, during our meeting, I realized that my team members were more concerned than I was about my robe suddenly opening (the result of a gust of wind that might appear without warning), and a great deal of the conversation was focused on my robe. A bit sheepish, I have consoled myself by watching videos on Facebook about other poor souls who chosen to wear a business shirt but no pants during business meetings online, only to forget to turn off their computer afterwards, leaving others to laugh hysterically when they see the person in his shirt and undies. Lesson learned.

2. Be careful what you wish for.
Yep. I also have caught myself earlier this year saying I wish I had more time with my family, especially with 2 young children. Don't get me wrong - I thoroughly enjoy my family time, but understand that getting dressed or brushing one's hair is really irrelevant to my kids. I was quite pleased with myself yesterday, given the fact that I had done my hair for the first time in what feels like weeks and looked forward to popping into my office to check over files. I have learned that I truly love real estate - the business, the agents, the clients, the homes and land. I now strive for a balance between my work and family life just to ensure that I brush my hair!

3. I am a hunter and gatherer (of cleaning supplies).
Now a home seller, I can empathize with my clients who are trying to sell their home, while ensuring that everyone practices safety protocols. I must admit that I have gotten a wee bit excited to hear where potential Lysol containers were lurking at my office, and the "hunter gatherer" in me claimed victory last week as I brought home to my family the disinfectant wipes that others failed to successfully hunt.

4. I am missing eating out at a restaurant A LOT.
I have come to realize that I really miss my "date nights" out at a restaurant with my wife, away from the crayons, sippy cups, and scattered toys. As I drive by my favorites haunts, I recall the great beverages that I have enjoyed with my buddies, or the fabulous meal that I raved about for weeks. I even miss those crappy meals out, or the beer that wasn't cold when it arrived at my table. I wonder what dining out will look like when we enter our "new normal", as social distancing is expected to continue for some time. To all of those whom I may have bumped into at crowded bars and restaurants, thank you for those memories now.

5. I still have my warped sense of humor.
Let's face it. What we are experiencing right will end up being a teachable moment for our grandkids. I remember reading those text books about people surviving wars and the plague, but I don't remember the lessons about what I was supposed to learn. Those high school students who will miss out on graduation ceremonies and prom will thank their liver in due time, won't have to worry about not fitting into their prom dress or tuxedo due to "stress eating", and no longer worry about getting their hair and nails done. Soon, those graduates will find themselves subjected to Zoom or online interviews for summer jobs. My final word of advice to them is to... always WEAR pants!

We are in this together.