Smallest, Largest & Most Expensive Nanaimo Homes Sold March 2020
Posted by Cody Dreger/Dustin Layzell PREC* on Friday, April 24, 2020 at 1:11 PM
By Cody Dreger/Dustin Layzell PREC* / April 24, 2020
Comment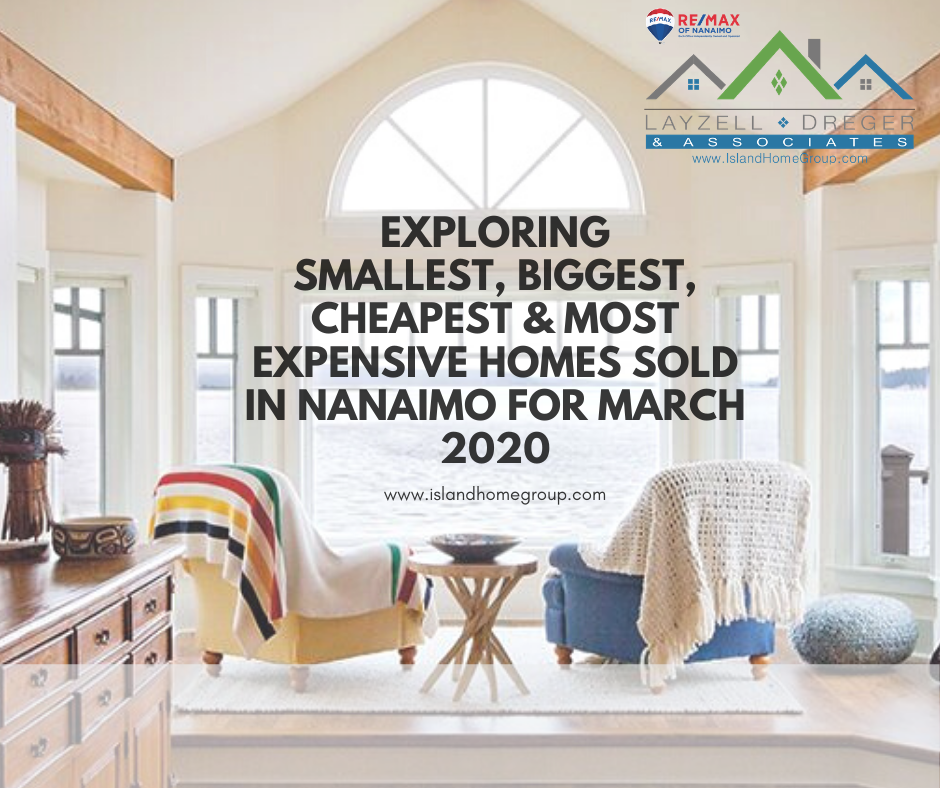 I thought that it would be interesting to take a look at the smallest, largest and most expensive homes sold in Nanaimo for the month of March. This was a different type of early Spring market as COVID-19 had virtually stagnated real estate once the BC government enacted "stay at home" recommendations so that we could flatten the curve of infection by mid-March. Nevertheless, real estate did continue to sell in Nanaimo, albeit with new contract provisions, the elimination of traditional open houses, and other challenges that are unprecedented in our lifetime.

The smallest home that sold in March in Nanaimo was NOT the least expensive. In fact, a 3 bedroom home in Cedar offering 1443 sf sold for $384,900 - making it the cheapest home sold this month (but not the smallest in size). Interestingly, it was sold by... ME (and I hope my buyer is ecstatic to get the best priced home of the month)! The winner of smallest home sold goes to 105 Pryde Avenue which is 812 sf and boasts 3 bedrooms and nice updates throughout the home which sold for $405,600 in March.

The largest home sold this month in Nanaimo was 4,276 sf and is a custom Westcoast executive home in Upper Lantzville on a fenced 2.72 acre lot with guest suite, private location and subdivision potential according to the listing agent. It sold in March for $1,225,000.

The winner of the most expensive home sold in Nanaimo goes to a spectacular 22 acre lakefront property with 5-stall barn, wharf, apple orchard and everything you would want if you are a horse lover! Surprisingly, the home (which was original to the property) is only 1,048 square feet, but I am certain that the location and amenities are what sold the buyer on this home This stunning property sold for a jaw-dropping $1,680,000.

March and April have been a challenging time as we navigate this "new normal". I am so grateful for the trust that our clients give to us as we assist them with the largest investment they will likely make. Whether it is a tiny home, a waterfront estate, a retirement home, or a family home with a yard for the children - I am here to help. It is important to make informed decisions that will help you protect your investment. Let me provide the experience and expertise that you need to successfully navigate this changing real estate market. You can reach me anytime at 250-751-5700. I look forward to speaking with you.